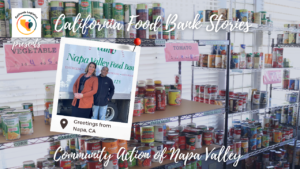 Photo: Lisa DeRose-Hernandez and James Hill
Community Action of Napa Valley 
This historic non-profit started in May of 1965 as the Napa City Council for Economic Opportunity – now known as Community Action of Napa Valley – and was granted non-profit status. This multi service organization supports and assists its community members in a variety of ways through various services such as a food bank, child care, Meals on Wheels, and disaster preparedness programs.
Now you wouldn't think there is a need for any food assistance in Napa Valley, but like everywhere else, there are people in need of some additional nutritional services.  Lisa DeRose-Hernandez is the Program Director Food Resouces at CANV. She is beyond passionate about her job and always has a smiling face and warm greeting for everyone. She is the face of the organization and is a hands-on leader involved in all programs.
Food Bank and Food Pantry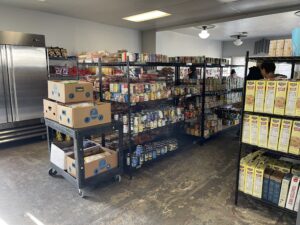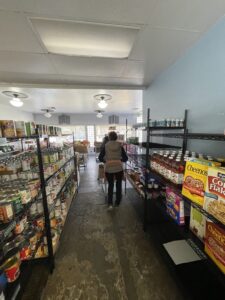 The food bank programs include Emergency Food Pantries, Silver Fox Boxes, the USDA Commodity Program, and Non-Profit Access. On average, they distribute over 118,000 pounds of food per month; that's more than 110,000 meals annually.
They partner with agencies in the ongoing fight against hunger; this includes 60 non-profits, 16 churches, six local governments, and many more to fulfill our objective for better health outcomes.
Delivering With Meals on Wheels

In addition to their food bank program, they deliver food and compassion, with their Meals on Wheels program.  They distribute five lunches and two snacks per week to participants, including milk and fresh fruit, to homebound seniors.  This awesome program is a free service addressing the nutritional needs of more than 400 participants throughout Napa County.
The Community Action of Napa Valley Team

It takes a village and a great team that is committed to helping their fellow neighbor in need. CANV helps their fellow citizens improve their lives and situations, whether shelter or food, care, or attention; the program, staff, and supporters of Community Action of Napa Valley make a real difference for people throughout the Napa Valley.