Green Bean Casserole
You know the holidays are here when you bite into the classic green bean casserole.  Add in those crispy fried onions and you've got a winning side dish.
This easy and tasty recipe takes only minutes to prepare and is a crowd favorite. Try it this holiday season.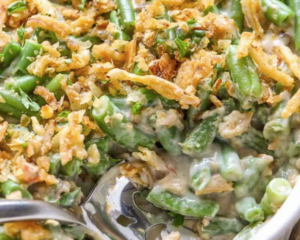 Classic Green Bean Casserole
Food Bank Items –
Canned Green Beans, Canned Cream of Mushroom Soup
Prep Time 10 mins     *     Cook Time 40 mins     *     Serves 8
Ingredients
2 (14 ½ ounces each) cans of green beans (drain liquid)
1 can (10 ½ ounces) cream of mushroom soup
½ cup milk
½ teaspoon black pepper
¼ teaspoon seasoning salt or to taste
1 ½ cups crispy fried onions divided
Instructions
Preheat oven to 350°F.
Open and drain green beans.
Combine green beans, mushroom soup, milk, half of the fried onions, black pepper, and seasoning salt in baking dish.

Gently mix together in dish.

Place into oven  and bake uncovered for 30-35 minutes, until bubbling hot.
Remove from oven, add remainder of fried onions on top and place back in oven for 10 more minutes.
Remove and enjoy.
Recipe and photos courtesy of: spendwithpennies.com