A Safe Haven for the Community
We visited the Monument Crisis Center in Concord, CA.  This beloved center has been assisting families and the surrounding community members since 2003.  They provide food to approximately 15,000 households signed up through their Food Distribution Program.  They also have additional offerings such as adult education, youth, and senior programs to address members' various needs within their community.  CalFoods Logistics CEO Steve Linkhart and CFO Carry Warner were thrilled to donate a check for $5,000.00 to this worthy cause.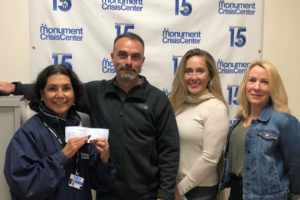 Yolanda Gonzalez, Steve Linkhart, Carry Warner, Julie Hilt
A Smooth Operation
Yolanda Gonzalez, Operations Manager, took us on a facility tour during their mid-morning food distribution.  There was the hustle and bustle all around as folks stood in line to receive additional nutritional support. Many volunteers and staff organized and sorted donation intake and prepared bags of food on the inside.  There is a constant buzz of energy, and this place is busy because there is such a need for assistance today.  On any given day, they have 25 volunteers working on site.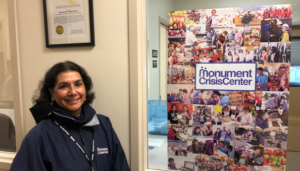 Yolanda said, "We are fortunate to have some great partners to work with that help with additional services for those who visit our location.  We have folks from the district attorney's office for legal assistance. We have a mobile medical clinic that comes so uninsured people can get medical help at no cost.  There are also the residents from John Muir who come and answer questions with center visitors, and we are trying to develop a new cancer outreach program to reach more minority clientele to help navigate the medical system."
Multi-Services for the Community
Pre-pandemic, this location was filled with after-school youth who participated in the after-school tutoring program.  But have now pivoted those lessons to Zoom to still provide this support to the kids. In addition, they offered yoga classes and cooking classes. Monument also hosted senior moments, where they provided additional health screenings, social gatherings, and meals for local senior citizens.  They really opened their doors to the community to become more than just a food distribution location but a place of resource and refuge for the community.
"The center also provides summer camps for kids with outdoor excursions and a robotic camp.  We have a backpack drive that assists 1,600 kids filled with all of their school supplies," says Julie Hilt, Monument Crisis Center Board Chair.  "Normally at this time of the year, we have a "shop with a cop" where we partner with the Concord Police Department, and they will go shop at Target and pick out a holiday gift."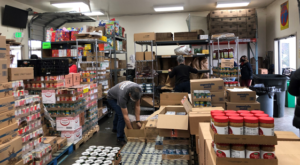 As we walked into the warehouse area, there is a place for everything. There are shelves filled with baby formula, baby diapers, toiletries, and adult diapers but these limited commodities are costly. Once they are out, they cannot afford to purchase more.  In addition, there are large bins sorted by type of food group to make it easier for volunteers to prepare their donation bags.  This place is a beacon of hope for a lot of community members, and we were fortunate enough to see a large truck pull up with the entire truck bed filled with food donations from San Ramon High School.  We must continue to support this place and others like it all around California.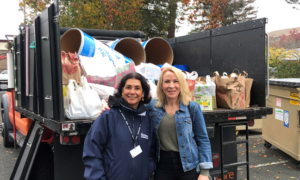 Contribute However You Can
As we presented our donation check to the center, Yolanda thanked us and said, "thank you, CalFoods, for the donation. This will help us purchase additional holiday food boxes for our clients because we run out very quickly as they are always in high demand. We appreciate the donation."
There are many ways to help the Monument Crisis Center. Reach out and ask about volunteering. You can host your own food drive on their behalf and deliver the donations, or simply make a monetary donation on their website.
Here are some ways to support this organization
Donate online to Trinity Center
Mail a check to Monument Crisis Center P.O. Box 23973 Pleasant Hill, CA 94523
Visit their website https://www.monumentcrisiscenter.org/
See Monument Crisis Center volunteer opportunities here.