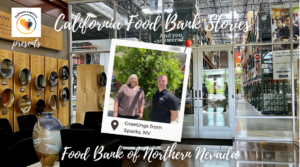 Photo: Jenny Yeager and Chris Gleim
Food Bank of Northern Nevada – 20 Million Meals and Growing
On the road again to visit another hard-working food bank distributor assisting both Nevada and remote parts of California, the Food Bank of Northern Nevada. They provide food for families in need through more than 150 partner agencies across northern Nevada and the eastern slope of the Sierra in California. Their partner agencies are emergency food pantries, shelters, family resource centers, and more that get food to the hungry over a 90,000 square mile service area.

This food bank grew from a small pantry to a regional distribution center. They incorporated in 1983 and have operated as a 501(c)3 nonprofit organization for more than 35 years. This past fiscal year, they provided more than 20 million meals for neighbors who faced hunger! Let me repeat, 20 million meals. Food insecurity is not a myth or a minor issue, it's a major challenge for food banks and the recipients that receive the food.
The 4-hour drive from the Bay Area shows you all the beauty that California offers, and we're thankful for partners like them.  In Sparks, Nevada, off Highway 395, you drive up an expanding industrial complex and see the largest Walmart distribution center that ever existed. Right next door is their neighbor, the Food Bank of Northern Nevada (FBNN).
Beautiful Building in a Natural Environment
This beautifully designed building, almost 69,000 square feet, fits right into the desert environment with terra cotta colors and drought-resistance landscaping on the outside.  Once inside, it's a beautiful reception area with many windows and natural light.

FBNN has been in the building since 2008, with the support of the Donald W. Reynolds Foundation. The Reynolds Foundation has supported food banks here, and in other states, in the U.S. This foundation was a significant donor to help them get into the space. And who helped with the design of the building, more of an open concept with high bright ceilings, windows with lots of natural light. Even the cubical areas have bright light, and openness and are a happy area to be in.

In the waiting area, beautiful pottery bowls are displayed on a wall. These are their donor bowls.  The bowls represent the major donations that help them get into the building, the idea conceived by local artist Joe Winter. The bowls represent food and a meal. From the waiting area looking through floor-to-ceiling windows, you can see directly into the warehouse area where all the magic happens.
A Mission and Vision to Serve
FBNN has a core group of staff that have been there five years or more, in addition to their entire team that is motivated and ready to serve their community.
Jenny Yeager, Director of Programs & Community Engagement, has been at the food bank for over 15 years. She has seen a lot of change and growth. It's a great place to work and is filled with people on a mission to feed their growing community. "People come here to work because of the mission, and they do a good job of connecting people to their mission, so they feel good about what they are doing in their community," said Yeager.

Their mission of "feeding the hungry today and solving hunger for tomorrow through community partnership" and their vision of "healthy food, every person, every day" drives their daily work. 
Another dedicated FBNN team member is Chris Gleim, Commodities and Procurement Programs Supervisor. Chris has been there for four and a half years now. He is the road warrior who visits six to eight food bank agencies monthly.  The furthest away is 379 miles and five and a half hours from the food bank. Gleim says, "The remote agencies are the heart of our organization and the ones doing the most challenging part of hunger relief. It brings me joy to support the partners with funds for capacity needs or ideas for smoother distributions."  His visits focus on compliance, assisting with food distribution, and building a better relationship with the FBNN partners and neighbors.
How Many People They Serve
FBNN serves 115,000 people per month and is growing, which is a challenge. You can hear the concern and urgency in Yeager's voice. "Over the last three months, it's about 120,000 people. At the peak of the recession in 2008, we served 103,000. And at the highest point of the pandemic in April 2020, we served 128,000. In March of 2022, we served 123,000."

Yeager adds, "We have a high level of food insecurity in the area; even though unemployment is low, people are now experiencing under-employment. The majority of people we serve are working families with children and seniors. Families with two incomes but still not making ends meet because of wages and they need that additional food support."
Survey Says…Food Banks are a Part of Food Plans
The Food Bank of Northern Nevada did a survey in partnership with the University of Nevada to help understand what was driving food insecurity in their area. What they found is that costs are a big part of that insecurity. Their community neighbors do not look at food banks for an emergency need; they have shifted and rely on the food banks as a part of their food plan. Going to food distributions or pantries is now a part of their routine; it's their daily routine. The idea of a food bank being an emergency program is no longer the case; it's a must-have resource.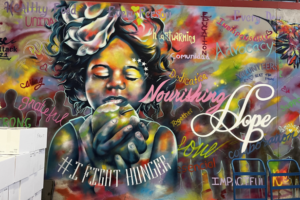 Volunteers are the Lifeblood

FBNN has loyal volunteers who are the lifeblood of who they are and what they do. They have volunteer sessions twice daily, five days a week. They will sort all the donations and repack them into categories so their partner agencies can order online through a system called Agency Express. Categories range from vegetables, fruits, entrées, and dry fruits, to cereals.
The agencies can see the "live" inventory and they get contacted monthly with menus of items to order. It's a very cool concept and efficient way to assist agencies quickly.
Out of the Box Programs & Partnerships
FBNN offers unique programs and services and works with 43 school-based pantries that operates similarly to a community panty. They order through Agency Express and build out their pantry distributions in their school versus a community setting.
They have a valuable next-door neighbor in Walmart who donates produce to them.  Gleim said, "We are blessed because we have a great partnership with Walmart who are providing most of the donated produce that we get every day. Historically one or two trucks a day." Without the Walmart donation, it would be a significant financial challenge because they can't make up dollar for dollar what they get through that donation stream.

They get creative with their food bank partnerships to source and get food delivered so they can distribute more. They built a network around increasing fresh produce, working with partners to get cold storage, and talking about produce benefits.  Building programs such as the Mobile Harvest Program, Nutrition on Wheels (for seniors), and various channels that need consistent produce going into them, they have to make sure they fill that produce need.
In addition to strong advocacy work, they also have an annual partnership conference where they invite all the partner agencies, and provide TEFAP compliance training to ensure that everyone is up to date with compliance. 
A Road Warrior for Food Banks
FBNN is lucky enough to have Chris Gleim, Commodities and Procurement Programs Supervisor. He is dedicated to ensuring the most remote food bank agencies in Nevada and California receive the food they need. "My favorite part of my job is supporting our partner agencies. They are the heart of our organization and the ones doing the most challenging part of hunger relief. It really brings me joy to support the partners with funds for capacity needs or ideas for smoother distributions," says Gleim.

During a joint visit, we visited Big Valley 50 Plus in Bieber, CA – population 510.  This very remote food distribution location is about 200 miles away from Sparks, NV, and in the most beautiful lands of California, you have ever seen. Imagine old, pristine lands as far as the eye can see, a natural landscape perfect for wild horses to roam.
The drive is scenic but also rural, passing small towns like Fall River Mills, population 648, or Burney Falls, population 3,220. The nearest grocery store to Bieber is at least 40 minutes away, so food distribution is critical.

The entire community of Bieber looks forward to the FBNN distribution truck every month, and Chris is there to meet the delivery and assist with the distribution. This additional food is truly a lifeline for this community.  Volunteers led by Debra O'Neil, Director of Big Valley 50 Plus, are waiting and ready to pitch in, organize the delivery, set up the intake area for recipients, and assist their neighbors with their pop-up shopping experience.
Chris has a great relationship with Debra and the volunteers, who fondly provide him with a name tag of "the big cheese." Chris recently helped this location with much-needed additional storage to allow them to receive more food and store it if needed. This type of infrastructure support is exactly why food banks need more support. More people, more food, more space.
Changing the Mind Set About Food Banks.
There is still some stigma around food banks and assumptions about the people who go there. Breaking the barriers around food bank stigma is essential and needs to happen nationally, not just locally. In every community, your neighbor could be somebody that is experiencing food insecurity. We are no longer talking about just the homeless with food insecurity; that is a very small part.

"Most people in this country are a paycheck away from experiencing a situation that requires them to ask for assistance. Whether it's housing, childcare, or food assistance," explained Yeager. "Most people don't have a robust savings – we need to frame the conversation that it literally could be anybody. You lose a job, a resource, and you can find yourself in this situation where you need additional support."
Reality of Food Bank Donations
The reality of food banks is in a tough spot. "We have seen about a 26% decline in food from both commodities and donations. And a 15% increase in client service members, two things that don't work well together," says Yeager. "Our programs and procurement team are working on additional resources to connect into to get commodities into the building. We knew there was going to be a TEFAP (The Emergency Food Assistance Program) cliff, but we weren't expecting the drop off in donations and all the supply chain challenges leading into that decline in donations." All food banks are in the same boat.

Gleim adds," It's a perfect storm, the commodities cliff with Coronavirus and trade mitigation were going to end but having Coronavirus around where we're seeing supply chain struggles and places that typically donated, they don't have excess product to donate anymore. Products aren't even getting to them." CalFoods Logistics supports FBNN by providing pre-packed food boxes so they can continue distributing additional resources as needed to their community.
If you now add inflation with rising food costs, all these combined are stressing the system and bringing people back to food pantry lines or direct distribution lines. Everyone is looking for assistance, and there shouldn't be any shame in that.
Be an Advocate for Your Community
When it comes to food banks, a little goes a long way. Even if you volunteer for a few hours, it helps take the stress off employees doing other critical work. And you get a sense of how needed food banks are in any community. Or make a small donation where literally $5 to $10 can feed a family a few meals!  Food banks have the purchasing power we don't, so every dollar counts.
If you enjoyed this story, please visit their website, and make a small donation that goes directly to helping feed the Food Bank of Northern Nevada community members. And remember, when you pass by your local food bank, please think about how your volunteerism, donation, and kindness can go a long way to help another in need.
Find out more and DONATE today: Food Bank of Northern Nevada – Healthy Food. Every Person. Every Day. (fbnn.org)