Tasty Spaghetti Sauce and Noodles
Spaghetti sauce and noodles is one of the easiest recipes to make.  But it takes a good sauce to make the dish delicious. Here's how to upscale a simple can of plain spaghetti sauce and turn it into something that even the most finicky of eaters will love – you must try this classic dish with noodles.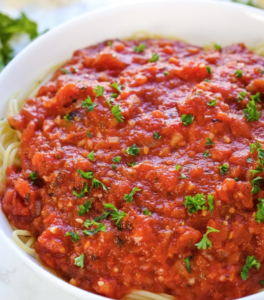 Spaghetti Sauce and Noodles
Food Bank Items – Canned Spaghetti Sauce
Prep Time 7 mins     *     Cook Time 10 mins     *     Serves 4    *     **Time Saver
Ingredients
2 Tbsp. olive oil
1 medium onion (finely diced)
4 garlic cloves (minced)
1 tsp. Italian seasoning
24 oz. can of spaghetti sauce
1/4 cup stock (broth, or water)
salt
pepper
1 pinch crushed red pepper flakes
fresh parsley (or basil, to garnish, optional)
Instructions
Pour olive oil into pan and set heat on low.

Add the diced onion, minced garlic, Italian seasoning and let ingredients simmer in the pan until the onions are translucent.
Add in can of plain spaghetti sauce and stir
Add stock or broth to sauce and continue stirring
Add salt, pepper, and chili flakes to taste
Add dried or fresh parsley and/or basil and simmer all ingredients for 5-7 minutes, then remove from heat.
Separately – boil water and add teaspoon of olive oil and salt into water

Place spaghetti pasta in water and cook for 5-7 minutes or until al dente (so pasta is cooked and is neither crunchy nor too soft – has a little texture to the bite)
Pour off water and pour spaghetti into sauce in pan
Mix both the spaghetti and sauce together, place into a large serving bowl, sprinkle parmesan into dish and serve
Recipe and photos courtesy of: yummly.com