Yellow Split Pea Stew
This simple and delicate yellow split pea stew is bright and beautiful and packed with a flavor punch.  It's a humble Ethiopian dish that is inexpensive to make. With just a few ingredients, you can expand this dish by adding spinach and ham. Give it a try.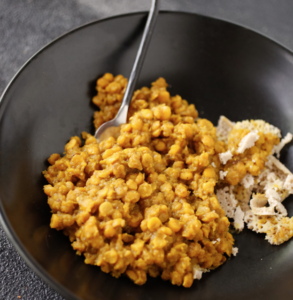 Yellow Split Pea Stew
Food Bank Items – Yellow Split Peas
Prep Time 20 mins     *     Cook Time 30-45 mins     *     Serves 12    *     **Time Saver
?  DOWNLOAD the Recipe PDF.
Ingredients
5 large purple onions, chop, and puree
1 cup olive oil
One 16 oz. bag yellow split peas
2 tsp turmeric
fresh minced garlic, to taste
salt and pepper, to taste
Instructions
Pour peas into a large skillet and cover peas with 3" water. Bring to a boil. Reduce heat to medium low and cook till tender, about 30-45 minutes.
Chop onions and place into in a food processor or blender to puree the onions.
Transfer the pureed onions only in a large skillet and cook on medium, until they are tender.

Onions will start turning brown (note: they will be dry).

Add the olive oil, turmeric and pinch of salt and pepper into the onion puree, stirring to combine.
Add the cooked split peas (water included) to the onion puree mixture. Reduce heat to a simmer and cook to a consistency like pea soup.
Stir in minced garlic and serve with injera, a tortilla or naan.
BONUS – Add in sautéed ham and spinach for additional flavor.
Approximate Nutritional's Per Serving
Calories: 313 Fat: 18.1g Saturated Fat: 2.5g g  Carbohydrates: 28.5g Fiber: 10.6g  Sugars: 5.9g Protein: 10.4g
Recipe inspired by and photo courtesy of: veggiesbycandlelight.com