Crisp and Tasty Salmon Croquettes
Get excited about this classic and delicious salmon croquettes recipe.  Don't be intimidated by canned pink salmon!  We're upscaling this healthy and classic dish from the sea.  This cousin dish of crab cakes is just as flavorful and so easy to make.  Make this dish and your guests will be asking for more.  Serve with your favorite tarter or remoulade sauce! Visit our blog for more food bank staple recipes.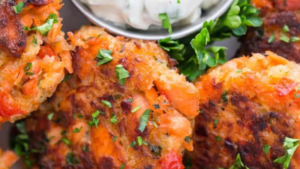 Crisp and Tasty Salmon Croquettes
Food Bank Items – Canned Pink Salmon
Prep Time 20 mins     *     Cook Time 25 mins     *     Serves 4    *     **Time Saver
Makes approximately 12-14 croquettes
Fry on the stovetop.
👉  DOWNLOAD  the Recipe PDF.
Ingredients
1 ½ cans of salmon (14.75oz can)
1 medium onion, 1 cup finely diced
1/2 red bell pepper, diced
½ celery stalk, diced
3 Tbsp unsalted butter, divided
1 cup breadcrumbs (regular or Panko)
2 large eggs, lightly beaten
3 Tbsp mayonnaise
1 tsp Worcestershire sauce
1/4 cup fresh parsley (finely chopped)
1 tsp Garlic Salt
1/4 tsp black pepper
Olive Oil
Instructions
Open, drain and rinse canned salmon, pat dry. Place in large bowl and separate salmon with a fork (check for bones).
Finely chop your onion, bell pepper, celery, and parsley and sauté on low to medium heat in olive oil. Remove from heat and let cool.
Add sautéed items into bowl with salmon and add, eggs, mayonnaise, Worcestershire sauce, breadcrumbs, garlic salt and pepper.
Thoroughly mix all the ingredients together until they bind together and are evenly mixed.
Make the croquette patties

Use either an ice-cream scoop to create uniform round sized croquettes OR use 2 tablespoon scoops per croquette.
Croquette should be approximately 2 to 3 inches round, or slightly smaller than the  size of your palm.
Cooking on the Stovetop
Place 2 tablespoons of olive oil and 3 tablespoons butter in pan on low to medium heat.
Place croquettes in pan and cook on each side for 3-5 minutes – should be golden brown. If patties get too dark, too fast, turn down heat.
Placed cooked croquettes on a plate with a paper towel to remove excess oil/butter.
Approximate Nutritional's Per Serving
Calories: 157 Fat: 11g Saturated Fat: 3g Cholesterol 53mg Sodium:175mg Potassium: 221mg Carbohydrates: 5g Protein: 9g
Recipe inspired by and photo courtesy of: Natasha's Kitchen (natashaskitchen.com)