A Special Community
We are thankful to be surrounded by such giving community services in the Bay Area. There is one special community that gives to all 365 days a year and this giving Tuesday, we wanted to highlight Trinity Center.  Recently Steve Linkhart, CEO, CalFoods Logistics, and Carry Warner, CFO, took a surprise trip to recognize a local non-profit doing fantastic work in Walnut Creek and Central Contra Costa County. If you haven't noticed the beautiful architectural wonder of Trinity Center in Walnut Creek, CA, the next time you are in the area, look at this masterfully planned community. The Trinity Center is led by Leslie Gleason, Executive Director and the facility serves and supports our most vulnerable community members. It's no wonder why it was named a 2020 California Nonprofit of the Year and recent East Bay Philanthropy Awards winner.
"I really love and admire Trinity Center's compassion and the multiple services that they provide to the community in addition to housing and feeding the homeless," said Steve Linkhart, CEO, CalFoods Logistics. "They are fortunate enough to share their kitchen with other community non-profits who also serve and support struggling community members and have developed a fantastic program for support during the winter months at the Walnut Creek National Guard Armory. Trinity also extends their expertise to the local BART and Walnut Creek police regarding how to assist those in distress. As with many non-profits, COVID hit them pretty hard, which affected their infrastructure. We saw this as an excellent opportunity to honor them with a substantial donation to help them continue serving the community without worry. Trinity Center is a perfect example of commitment, compassion, and understanding towards the underserved and vulnerable population. I am very impressed with Trinity, and we are fortunate to have them in Contra Costa County. CalFoods Logistics will continue to support them however we can."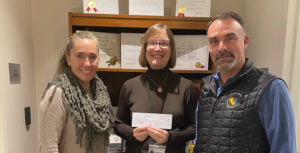 Carry Warner, Leslie Gleason, Steve Linkhart
Committed to their Community
In 2012, a vital community service provider in Walnut Creek announced discontinuing homeless assistance services after 15 years. In response, several program volunteers decided the community could not abide by the loss of such a critical program. Partnering with St. Paul's Episcopal Church, these volunteers opened Trinity Center's doors on November 1, 2012, without missing a day of services provided to the community's most desperate members.
Throughout the COVID-19 pandemic, Trinity Center has been committed to remaining fully operational, providing a safe place for those with nowhere else to go.  They support vulnerable people in our community impacted by chronic homelessness or extreme poverty. It can be very difficult to reach this population with traditional programming. But Trinity Center connects with segments of the homeless and working poor population that very few organizations reach. They also recognize that homelessness and poverty are complicated societal challenges that require diverse approaches. Trinity Center has pioneered distinctive and innovative programs in addition to a Day Shelter that provides essential human services, compassion, and support. In Fiscal Year 2021, nearly 1,000 unique individuals visited Trinity Center, and that number is on the rise.  On average, they serve between 60 and 70 individuals per day (sometimes topping 80!), with meals, showers, laundry, clothing, secure storage, peer support, case management, and computer, telephone, and mail access.
A Donation of Support
"Trinity Center relies on the support and generosity of our community to provide essential services, pathways forward, and a safe place for people in crisis," said Leslie Gleason, Executive Director of Trinity Center.  "Gifts of all sizes make a difference, but it's not every day that someone surprises us with a visit and a check for $10,000!  We are deeply moved by this show of support from CalFoods Logistics, which will allow us to move confidently into the future, knowing we can provide a high level of service and face whatever new challenges may arise. Homelessness is an extremely complex issue that has far-reaching impacts on our community. Because homelessness is a complex issue, increases in the incidence and duration of homelessness can happen during economic upturns and downturns. In addition to economic hardships, many people become homeless due to other life issues. For every homeless person or family, there is usually a complex set of factors contributing to their homelessness state, and there is not a one-size, fits-all solution. Addressing homelessness requires a multi-faceted, coordinated, and systems-oriented approach.  Trinity Center exists to meet this challenge with support from the community to provide essential safety net services and a pathway forward for each individual who crosses our threshold seeking housing, financial stability, and wellness. We are grateful for CalFoods Logistics, as a partner in our mission to uphold the values of dignity, respect, inclusion, equity, and vibrancy of life for all as we address the crisis of homelessness in our region and state."
Shelter in the Winter
For the past seven winters, Trinity Center has operated an Evening Program to provide emergency overnight shelter to 30-40 Trinity Center members, paired with intensive case management, from December through April. The Winter Evening Program has become a place of refuge for the most vulnerable members of the homeless population: elderly persons who do not feel safe staying in a general homeless shelter. Extending Trinity Center's code of conduct to this program is deeply important. Members – especially the elderly – are often afraid to go to other overnight shelters because they fear a volatile environment where they feel unsafe to sleep. The desired outcome of Trinity's program is to continue to offer shelter, services, and member advocacy to the growing number of people who need overnight protection during the most vulnerable months of the year.
Trinity Center also holds special meaning for Carry Warner, CFO, CalFoods Logistics, who said, "I first became aware of Trinity Center in 2017, through Donna Colombo, their past Executive Director. I volunteered by serving meals, shuttling members to the winter shelter, and performing other volunteer services. Many of the folks I interacted with were kind, friendly, and deserving of compassion and dignity, and that's what Trinity allows them to do. The center doesn't just feed and house people as a one-time opportunity; they are committed to helping them with long-term services and solutions so they can get back on their feet. The services provided are essential to the greater community. The collaboration with other non-profits, local law enforcement, community stakeholders, and the surrounding neighborhoods and small businesses allows Trinity Center a broader reach and ultimately a greater impact."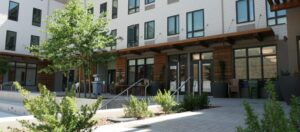 Get Involved Today
As the holiday season starts, please keep unique community resources such as Trinity Center in mind as you make donations or wonder how you can help this holiday season and throughout the year.  You can reach out to Trinity Center directly with any questions about volunteering, donating, or finding out more about their services. Contributions are used for meals, staffing, and the overall cost of operations, which always seem to rise just like household budgets!  Please share this information with anyone that you know in need.
Here are some ways to support this organization
Donate online to Trinity Center
Mail a check to Trinity Center, PO Box 126, Walnut Creek, CA 94597
Visit their website https://trinitycenterwc.org/
See more Trinity Center support opportunities here.